1. Introduction
Google's Performance Max Campaigns, first unveiled in November 2021, are designed to do just that. By combining the power of machine learning with a vast ad network that reaches 90% of global internet users, Google enables businesses to get the most out of cross-channel promotion in a single advertising campaign. The feature uses a secure one-way hashing algorithm called SHA256 on your first-party customer data to achieve best conversion result!
SHOPLINE shall enhance soon to support the feature! Before this, merchant can proceed with manual way.
2.Setting Guide
Login to your Google Ads account

Click tools & settings > measurement > conversions

Choose purchase under the previous conversion setting or add new conversion actions
Tick turn on enhanced conversion
Choose global site tag or google tag manager
Key in your website URL link, and check URL
After check, chosse global site tag- AW-********* and click next
Choose ''Enter JavaScript or CSS selectors''. Recommend to tick ''email'', because phone number, name & address can be fill up by shoppers/ site visitors so it have high chance to not match the standard of Google requirement, will easily caused error for conversion.
Choose ''Email'' (Recommended)
Choose ''JavaScript''

Fill in" __PRELOAD_STATE__.thankyou.buyerInfo.buyerEmail"
Choose ''phone''
Choose"JavaScript"

Fill in" __PRELOAD_STATE__.thankyou.receiverInfo.receiverMobile"
Not recommend to tick name and address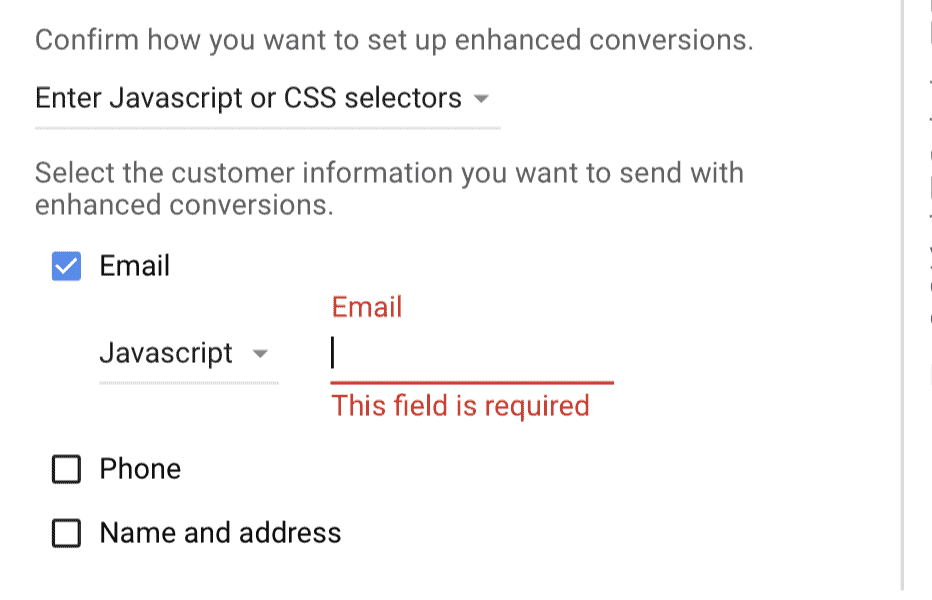 Click save
3. Diagnostic
To diagnostic your conversion, please check diagnostic report after 72hours of setting.
If setting successful, the diagnostics status will shown as per below:
Related Article:https://support.google.com/google-ads/answer/10172785?hl=en